Luxury spas in Phuket offer you the ultimate pampering experience – more than just a massage. Everyone likes a bit of a back rub from time to time, or a neck massage. But until you've tried a spa treatment in Thailand you really haven't lived.
Luxury Spas in Phuket, Thais turned the back rub into an art form thousands of years ago, and have been refining it ever since. And in Phuket, that refinement is at its zenith. Ever dreamed of spending an entire day being pampered and stroked? Or of being massaged with honey, tea or chocolate? It's all in Phuket. For some of the island's top treatments, read on.1
Mandara Spa at JW Marriott Phuket Resort & Spa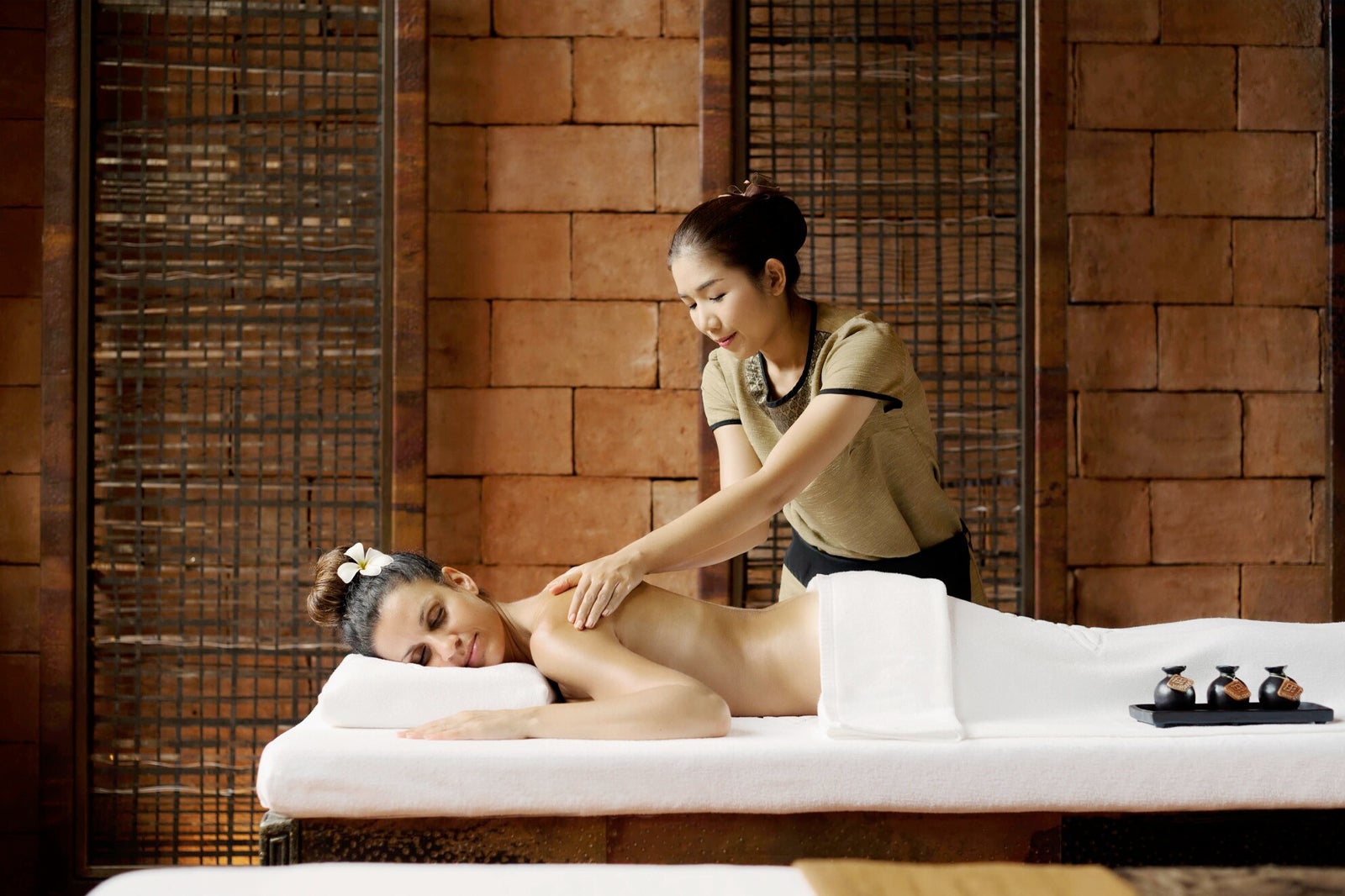 Mandara Spa at JW Marriott Phuket Resort & Spa has 40 different treatments on its spa menu but for couples, the Romantic Getaway is, frankly, a must. It lasts 4 hours, starting with a floral foot ritual, and followed in sequence by aromatic steam, aromatic salt scrub, aromatic floral bath, aromatic massage, aromatic facial and finally refreshments.
The Mandara also offers a healing traditional Thai massage, using techniques going back more than 2,500 years, which means it just has to be good for you. It comes in options of 90 minutes and 2 hours.
Location: JW Marriott Phuket Resort and Spa, Mai Khao, Thalang, Phuket 83110, Thailand
Open: Daily from 10am to 10pm
Phone: +66 (0)76 338 2012
Eforea Spa at Hilton Phuket Arcadia Resort & Spa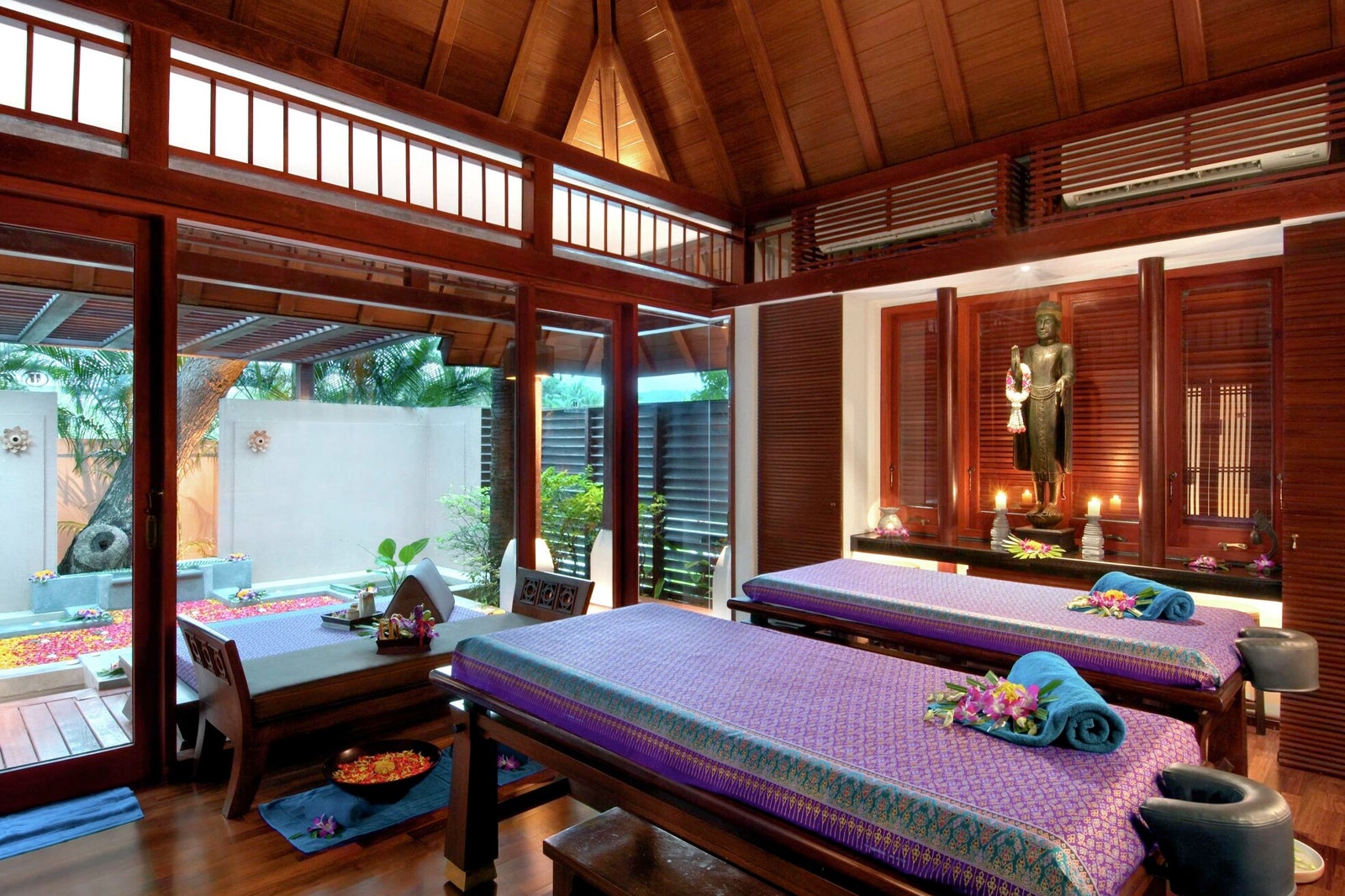 The Hilton's spa, Eforea, is not simply a few beautiful rooms in a corner of the resort. It's a whole village dedicated purely to sybaritic relaxation. The signature treatment is the re-energising Equilibrium Therapy, a 90-minute journey that starts with a floral footbath – a foot massage in warm water with kaffir lime slices and flower petals.
The next step is a literally delicious half-hour body scrub using sesame and honey. Skin clean and tingling, get ready for the 60-minute massage. This starts with 15 minutes of Thai massage techniques, then the therapist will apply wild mint oil all over you and use a Thai herbal heat pack to soothe muscle aches and stimulate blood circulation.
Location: 333 Patak Rd, Karon, Muang, Phuket 83100, Thailand
Open: Daily from 10am to 8pm
Phone: +66 (0)76 396 4333
Banyan Tree Spa
For those who take their luxury seriously and are ready to spend around US$400 pursuing that end, the place to go has to be the Banyan Tree Spa. The Day Package there consists of a mind-altering 7 hours of complete surrender to the spa's therapists who deliver a series of stimulating body treatments. These include a body scrub, a body conditioner and a massage – and that's just in the morning.
After a lunch of spa cuisine, it's time to submit to 3 additional treatments, for the face, the hands and the feet. The only worry will be whether anyone will recognize you when you emerge, shining and beautiful, in time for sundowners.
Location: 33, 33/27 Srisoonthorn Road, Cherngtalay, Thalang, Phuket 83110, Thailand
Open: Daily from 10am to 10pm
Phone: +66 (0)76 372 4004
Le Spa at Le Meridien Phuket
Le Spa at Le Meridian Phuket has a few treatment options that combine gentle exercise and spa treatments using massage products derived from different kinds of tea – green tea, fruit tea, flower tea and others.
A light leg therapy session helps you relax and to counter the effects of jet lag. Packages with exercise, stretching and meditation, together with choices of facial, body wrap or body scrub are also available.
Location: 29 Soi Karon Nui, Karon, Muang, Phuket, 83100 Thailand
Open: Daily from 9am to 11pm
Phone: +66 (0)76 370 1006
The Aspara at Holiday Inn Resort Phuket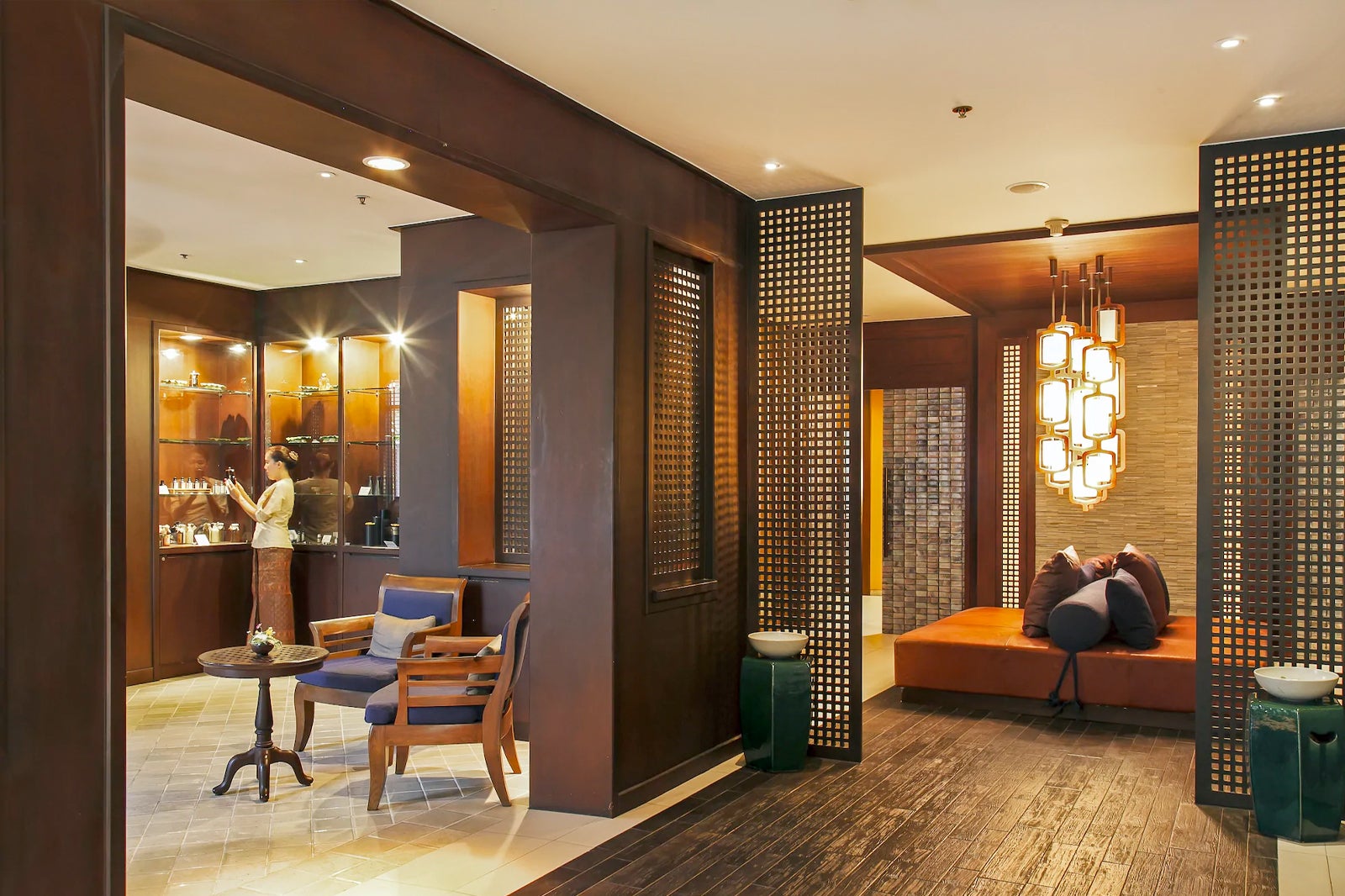 There are 2 treatments at the Aspara Spa (Holiday Inn Resort Phuket) that deserve special mention: the Hot Stones Therapy and the Aroma Meridian Massage. The Hot Stones treatment (75 minutes) starts with heated basalt stones being placed on strategic points of the body to decongest stressed muscles and promote blood circulation. This is followed by a soothing massage using aromatic oils.
The Aroma Meridian massage combines the benefits of aromatherapy with Chinese theory on Yin and Yang. A warm compress filled with extracts of flowers and herbs is used to heat up the body's meridian pathways, stimulating acupressure points, before a pleasant massage is delivered using aromatic essential oils. The treatment lasts 75 minutes.
Location: 52 Thawewong Rd, Patong, Phuket, 83150, Thailand
Phone: +66 (0)76 370 2007
The Spa at Mövenpick Resort & Spa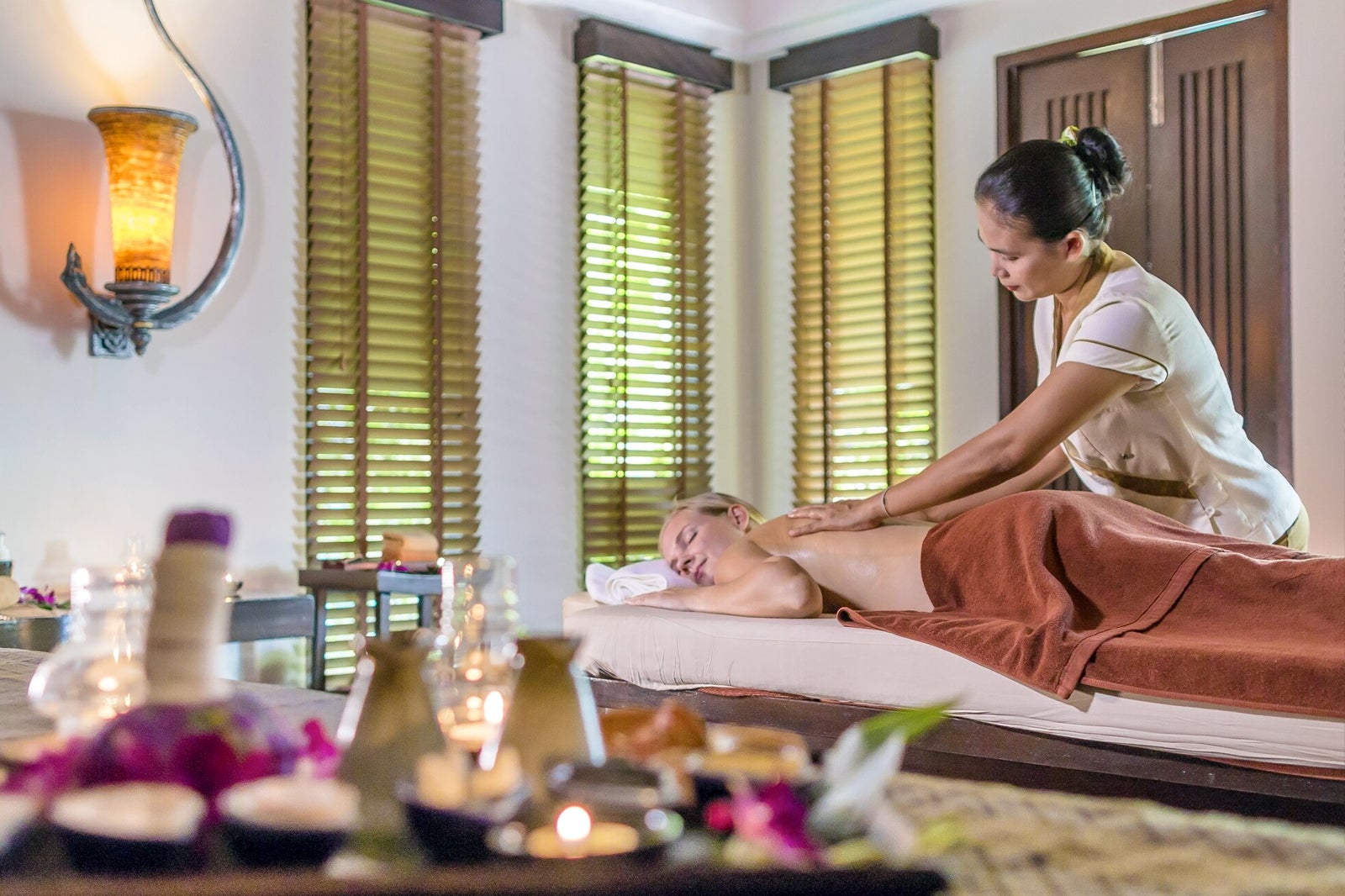 If you thought tea was for drinking, honey was for toast, you will have learned by now that they have other luxurious uses. So if you thought that chocolate was just for eating, you and your loved one should head on over to the Mövenpick on Karon Beach for the Romantic Harmony couples' treatment.
In a double suite, lit only by candles, the relaxing 2-hour session begins with a pampering Foot Soak to soothe tired feet in nourishing lavender extract. Next comes the Chocolate Body Scrub, a sensory delight that also softens your skin. After that, soak in a luxurious floral milk bath before the final Hawaiian Lomi Lomi massage to release stress and tension and increase blood circulation.
Location: 509 Patak Rd, Karon, Muang, Phuket 83100, Thailand
Phone: +66 (0)76 683 350
Luxury Spas in Phuket