Charter Water Toy Excursions – What can I do on a Yacht
.Add to the fun of the journey…
Yacht Charter Toys & Activities with Charter Dock A Cafe. Charter Water Toy Excursions – What can I do on a Yacht.
Cruising Thailand waters aboard a private luxury yacht or boat with fun water equipment that ranges from water slides, inflatable Jacuzzi's, water scooters and Kayaks. We have come up with a list of yacht charter toys in Thailand that our customers love.
Add to the fun of the journey…
No Boat, Yacht, or Superyacht is complete without a large collection of water toys and activities. They add to the fun of the journey and the guests love them. From the inflatable slides to the Jet Ski and even maybe a water slide from the flybridge, the water toys cover every single angle of water fun.
Here is just a few activities and toys to mention when you charter a vessel with us here in Thailand. The Best Fun Charter Experiences Guaranteed.
1. Full face snorkel masks
Traditional snorkeling sets can be found on literally every charter boat in the world.
But have you ever tried the full face option?
Designed primarily for casual snorkeling, a full face snorkel mask is indispensable for maxing out your day on the water. This mask is beginner-friendly and great for those who tend to get a sore jaw or mouth from holding onto the standard snorkel. Moreover, full face snorkel masks aren't prone to fogging due to their air flow system.
Find full face snorkel masks on the Big 70ft Catamaran, Leopard 51, Leopard 43, Aquila 36, and Raptor 38.
2. Snuba sets
Snuba is a crossover between snorkeling and scuba that allows beginners to go underwater without needing to obtain diving training and certification first. It is a form of introductory diving in shallow waters, suitable for children and those with basic swimming skills. If you'd like to try something more than snorkeling but aren't quite committed to deep-sea diving, we warmly recommend giving Snuba a go.
Find Snuba sets on Big 70ft Catamaran, Leopard 51, Leopard 43, Aquila 36, and Raptor 38.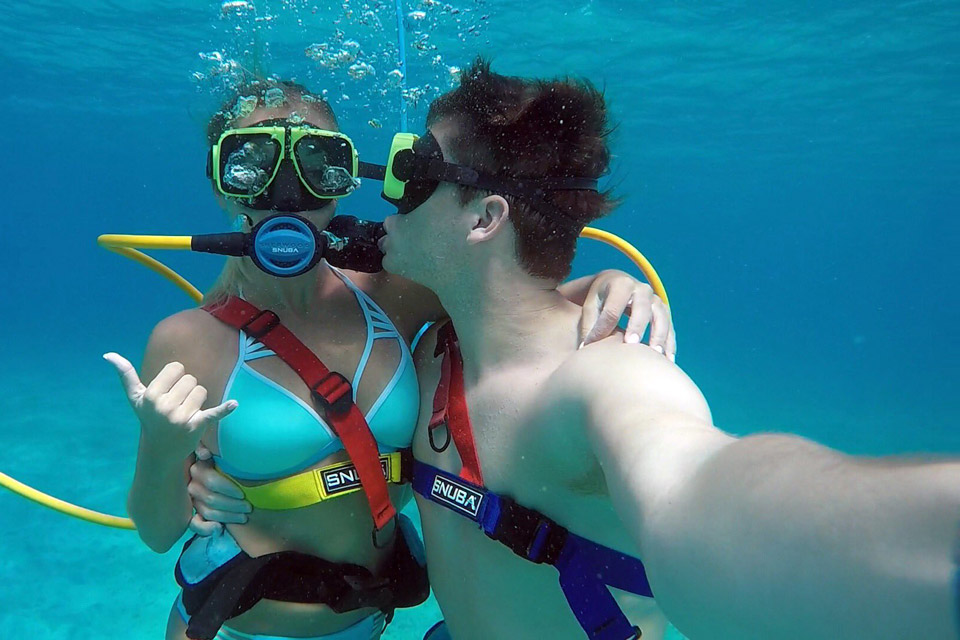 3. Kayaks
Kayaking around Phuket and Phang Nga Bay is a tranquil outdoor activity that appeals to most people. Kayaks don't create any engine noise, allowing you to stay in peace with the sounds of nature. Also, kayaking is perfect for accessing caves and fun virtually any time of year, even in the so-called low season.
Find kayaks on Big 70ft Catamaran, Leopard 51, Leopard 43.
4. SUP boards (Stand Up Paddle Boards)
Stand Up Paddle boarding (SUP) is growing in popularity all over the world. It's a great way to get and stay fit, whilst enjoying the beauty of nature around us. What better place to do it than the beautiful island of Phuket, Thailand, with its crystal clear turquoise water, coral reefs, multiple outer islands, lush jungles and mangrove forests.
Find SUP (Stan Up paddle boards) available on  Big 70ft Catamaran, Leopard 51, Leopard 43.
5. Waterslide
Being one of the most requested yacht charter toys in Phuket, waterslides are custom-made add-ons that provide an exciting drop down from the yacht's upper deck. They are fun to use and play around with family and friends, and the best part is that, unlike in a water park, there are no queues or strangers.
Find waterslide on  Big 70ft Catamaran, Leopard 51, Leopard 43.
6. Inflatable toys
Every child loves inflatable toys, and the truth is – these toys provide a lot of amusement for adults too. You can play with a ball, have a swimming competition or just float around the boat for hours on end.
These days, inflatable donuts, unicorns, and pizzas are among the most popular inflatables because they look great in pictures. Try them and see for yourself!
Find inflatable toys on Big 70ft Catamaran, Leopard 51, Leopard 43, Aquila 36, and Raptor 38.
8. Jetski
If you've never used one of these popular water vehicles, a private charter cruise might be the right time for it. In addition to attracting adrenaline lovers and thrill seekers, jet skis allow you to zip from place to place with great ease. Although they may seem a bit intimidating at first, learning how to ride a jet ski is quite easy.
Find jetski's on the surounded islands of Phuket
9. Seabob
Seabob is a relatively new luxury addition to the list of yacht charter toys in Phuket. It is often advertised as "the world's fastest underwater scooter". It is highly maneuverable and it can be used both on the water's surface and for diving. Unique in its kind, this vehicle particularly appeals to sport lovers with a need for speed; however, it makes for a fun family day at sea as well.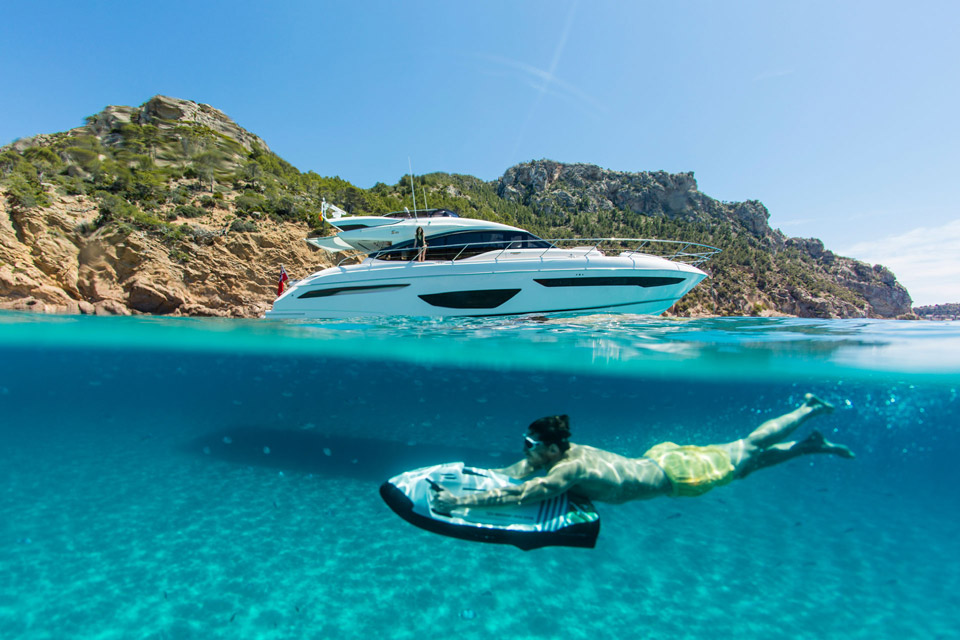 We will sail or cruise to areas outside of the national parks where you can have fun in the water with all toys onboard.
info@charter.docka.cafe
www.charter.docka.cafe
Charter Water Toy Excursions – What can I do on a Yacht.